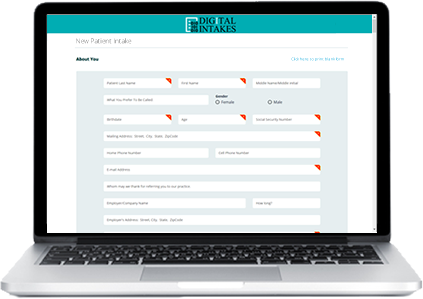 Doctor Focused
View and download client information in a safe, secure, compliant way. Manage multiple locations with one account.

New clients that fill out their forms online are less likely to "no show".

Unlimited form submissions.
DIGITAL INTAKES Methodology
The smart solution. Online intake forms Easy, Fast, Secure and always Free.
COMMUNICATION
IS KEY
Have a quick question? Send us an email and receive a quick reply.
Need more extensive support? Call us, well be happy to help.
SETUP IS FAST
AND EASY
Quickly setup your FREE account and have clients filing out digital forms in minutes.
HOW IT WORKS
PICK A FORM

Create your own forms or pick one of our editable pre-made forms. It's easy.

GO GREEN
GO DIGITAL

Clients notice when you're eco-friendly. It's a great first impression.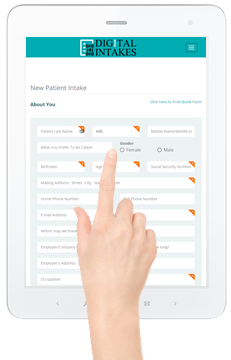 GET BETTER ANSWERS

Clients that fill out forms from home provide better more thorough answers.

Try it FREE for 30 days

We feel we're right on target. At only $12.90 per month any size practice can afford to use DigitalIntakes.com
SECURITY IS OUR FIRST PRIORITY
Some practices think going digital means posting a form template on their web page and voila, "digital". Sending sensitive data through unsecure channels like email or unencrypted web pages puts your clients information at risk and is not HIPAA compliant. To do it the right way is expensive to setup and maintain. For just $12.90 per month your practice get all the features and security our competitors charge between $39-$124 per month